Pre-Requisites#
The following configurations should be applied to the platform to use Arthur's Backup and Restore capabilities:
Arthur must be configured to use external object storage, specifically, AWS S3

The access to external storage must be configured using IRSA annotations

In order to use IRSA annotations, the cluster must be deployed using Amazon EKS
If the above are not true/possible for your deployment, please reach out to Arthur Support.
Configuring Velero#
The only component that needs to be installed separately from Arthur to perform backup and restores is Velero. Instructions are provided below for setting up Velero to store backups in S3 using IRSA. The general overview of the installation is as follows:
Setup permissions for Velero

Install Velero

Confirm Velero is installed and configured correctly

Configure the Backup Storage Destination to point to S3
Configuring clickhouse-backup#
Configuring clickhouse-backup to store backups in remote storage (eg: S3) can be done in the Admin Console. Once your cluster is setup for Backup and Restore, you should see the "Enable OLAP Database Backup Capabilities" option in the "OLAP Database" section.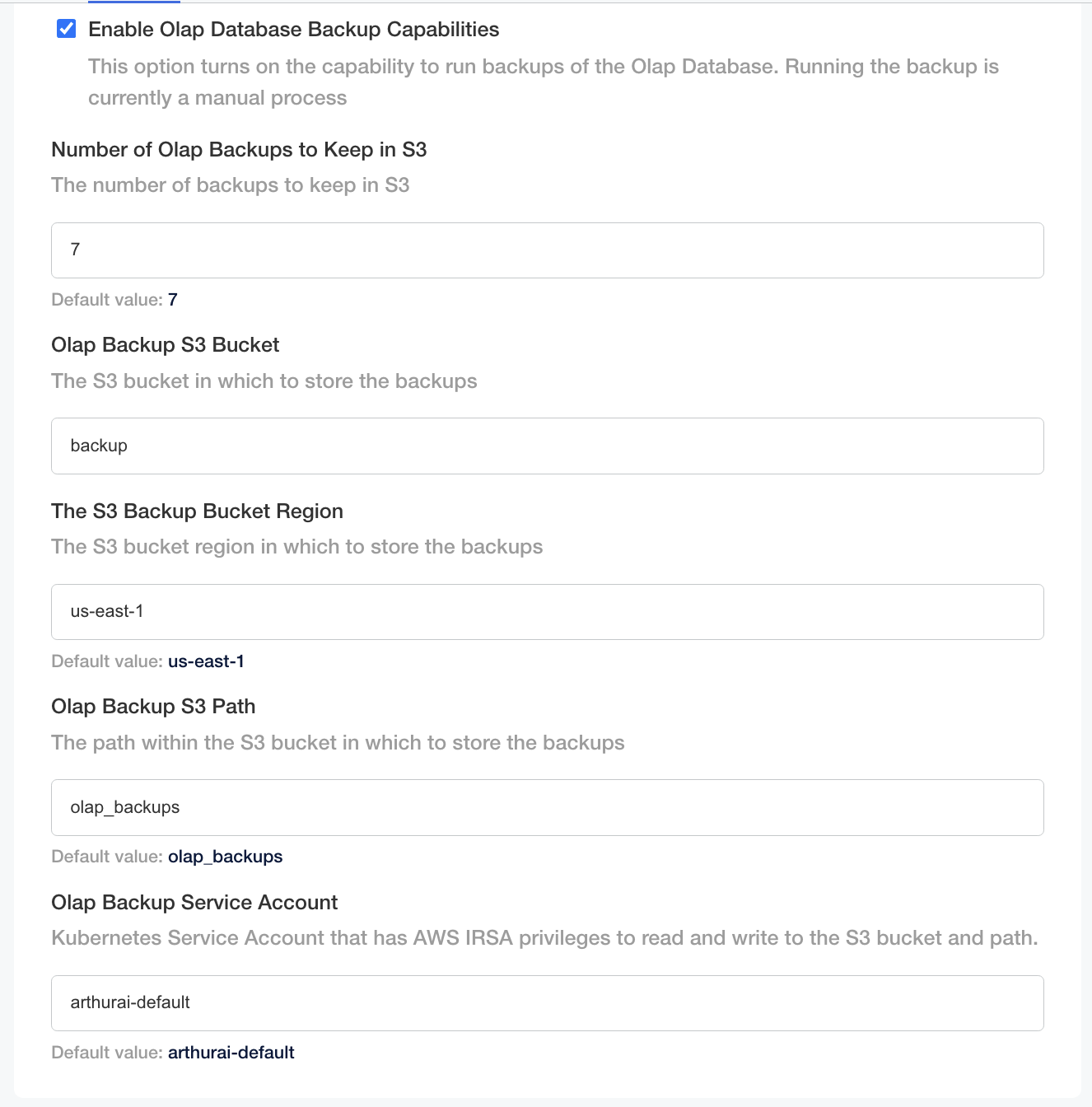 Ensure that:
The configuration that points to the bucket is correct

The Bucket Name

The Bucket Region

The ServiceAccount is the same ServiceAccount that you've configured with the IRSA annotation (if you are not sure, enter the default value)

The IAM Role that you are using for the IRSA annotation has the appropriate permissions to read/write/list from the S3 bucket

The S3 Path is where you want to be storing backups